Robin Hogarth Awarded a Grammy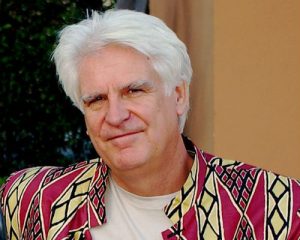 February 11, 2006 – Hollywood: South African AFABW Int Member, Robin Hogarth, accepted a Grammy at the 49th Grammy Awards today in Los Angeles for his role as Record Producer for Blessed.
The record was awarded Best Traditional World Music Album and was performed by the Soweto Gospel Choir.
Four of the participating artists jointly received the award, including:
Beverly Bryer Executive Producer of Soweto Gospel Choir
Lucas Bok Musical Director
David Mulovhedzi Choirmaster
Robin Hogarth Record Producer
The Soweto Gospel Choir, formed four years ago, has performed extensively in Europe, Australia and the US and has won numerous awards including an Australian Helpmann Award, and an American Gospel Award.
At the Edinburgh Festival, in the UK the choir has been a top-selling show, and the choir is booked in the US into 2008. It has performed in many prestigious venues, including Carnegie Hall, and the Royal Festival Hall in London. The choir was formed by promoters Andrew Kay, David Vigo and Clifford Hocking, in association with Executive Producer Beverley Bryer, and Musical Director David Mulovhedzi.
Said Robin, "I am exhilarated at our receiving this Grammy – on behalf of the whole choir and those who worked so hard on the album and all that we do, this is a tremendous honour for us, and for South Africa. The importance of this cannot be underestimated. Through the years of turmoil in South Africa, and the long walk to freedom walked by Nelson Mandela and the people of South Africa, the music and art of South Africa have played a vital role in expressing the hope and aspirations of the people. Soweto Gospel Choir members are representative of South Africans everywhere, and this award underlines what can be achieved. The future is alive with possibility! All South Africans can be proud in such an achievement, as can all like minded people, and can take hope that the dream of a better world for all can be realised."
Robin began writing for film in 1972, initially for two feature films, and subsequently additionally for TV. From 1987 he wrote and produced the theme and incidental music for numerous African TV series, and made for TV films. These productions received local and international recognition (South African awards, and a New York Film Festival award), and ranged from comedies to action thrillers, historical drama to modern dramas, covering a panorama of different musical styles. Later international films and TV productions followed, from Anglia Survival (for which one film received a Panda nomination – the wildlife Oscars) to albums for film and television which are now used all over the world – from Japan to Sweden, Korea to the USA.
In 1990, due to his knowledge of African music, Robin began representing one of the largest catalogues of Southern African traditional music in the world. This involved acquiring an in depth knowledge of this music, and the production of the necessary research material to go with the albums concerned. From there he began producing albums of traditional Southern African music. To date over 40 such albums have been released internationally.
Robin's music has appeared on albums featuring artists like Peter Gabriel, Enigma and Adiemus.
Recent projects have included "Tribal Beatz", a release on ARC Music in the US and UK, with Barry van Zyl (drummer for Johnny Clegg), Johnny Clegg, and musicians and singers from the band. The album is an exciting mix of African authentic rhythms, instruments and voices.
His work on world music for film and television has continued, with a double CD release "African Spirit" on KPM, and a world percussion album in progress.
Work was recently completed on the Soweto Gospel Choir's third album, which will be released in the course of 2007.
"I find a particular spiritual energy in African music, which is so rich and diverse." Robin said. "There is something very special about it's moods and rhythms. It is full of uplifting surprises. The world will hear more and more from Africa as the future unfolds. Africa calls!"